The Larry P. Atkinson Travel Fellowship helps early career scientists and graduate students who are actively involved in research and/or education programs using Ocean Observatories Initiative (OOI) data. The Fellowship provides travel support for the recipient to attend (in-person or virtual) and present a paper or poster on research or education using OOI data at a national or international conference or workshop. Participation in conferences that promote diversity and inclusiveness is encouraged. The Fellowship will be awarded annually and multiple awards are planned this year.
Information on eligibility requirements, how to apply, and how to donate to the Fellowship is provided below.

Eligibility Requirements
Be within 10 years of receiving your terminal degree or currently enrolled full-time in a graduate program.
Be a citizen of the United States or currently working/studying at a US institution.
Be involved in research or education that uses OOI data.
The conference or workshop must have sessions focused on ocean observatory-related topics.
The conference or workshop should provide an opportunity for you to network with other OOI educators and scientists.
The conference or workshop must take place within 12 months of your fellowship notification period (extensions would be considered in the event of major events that might postpone or cancel the workshop).
Travel award requests are not expected to exceed $2,500.
You are expected to book your own airfare/transportation and provide proof of attendance for the workshop/conference.
You are also required to submit receipts for your claimed expenses up to the amount of the award within two months of the meeting.
Within three months of the meeting, you are required to submit a brief (<300 words) report on the benefits of your attendance.

How to Apply
If you need funding to offset conference expenses (registration fees, travel costs, accommodations, etc.) and meet the eligibility requirements listed above, we encourage you to apply. Applications to participate in conferences that will be held in-person or virtually will be considered.
Participation in conferences that promote diversity and inclusiveness is encouraged. Examples include, but are not limited to, the annual conferences hosted by the Society for Advancement of Chicanos/Hispanics and Native Americans in Science (SACNAS) and National Association of Black Geoscientists (NABG).
This year, due to COVID constraints and fewer in-person meetings, there will be no deadline for award applications.
Please note, the online application form will require that you upload a current CV and a letter of recommendation from an advisor, mentor, or professional in the field. Accepted formats for these documents are Word Documents and PDFs. Questions can be directed to Annette DeSilva at <desilva@ooifb.org>.

How to Donate
If you wish to provide a contribution to support the Larry P. Atkinson Travel Fellowship for Students and Early Career Scientists, please contact the OOIFB Office at <desilva@ooifb.org> for donation information.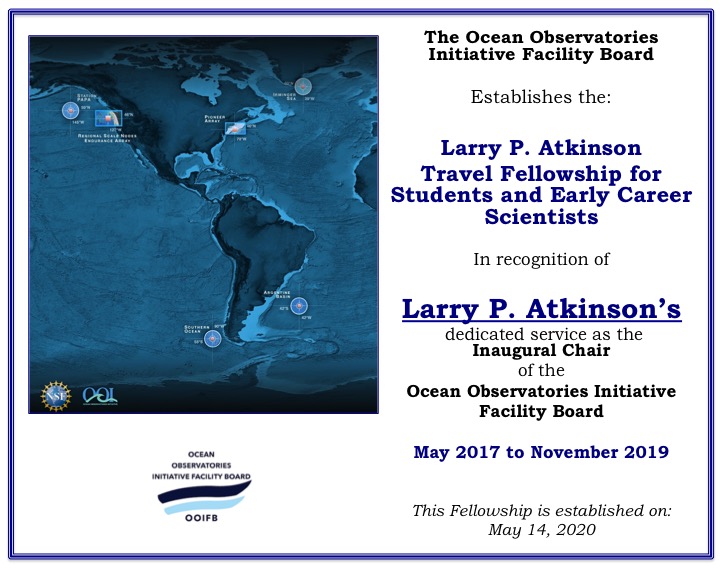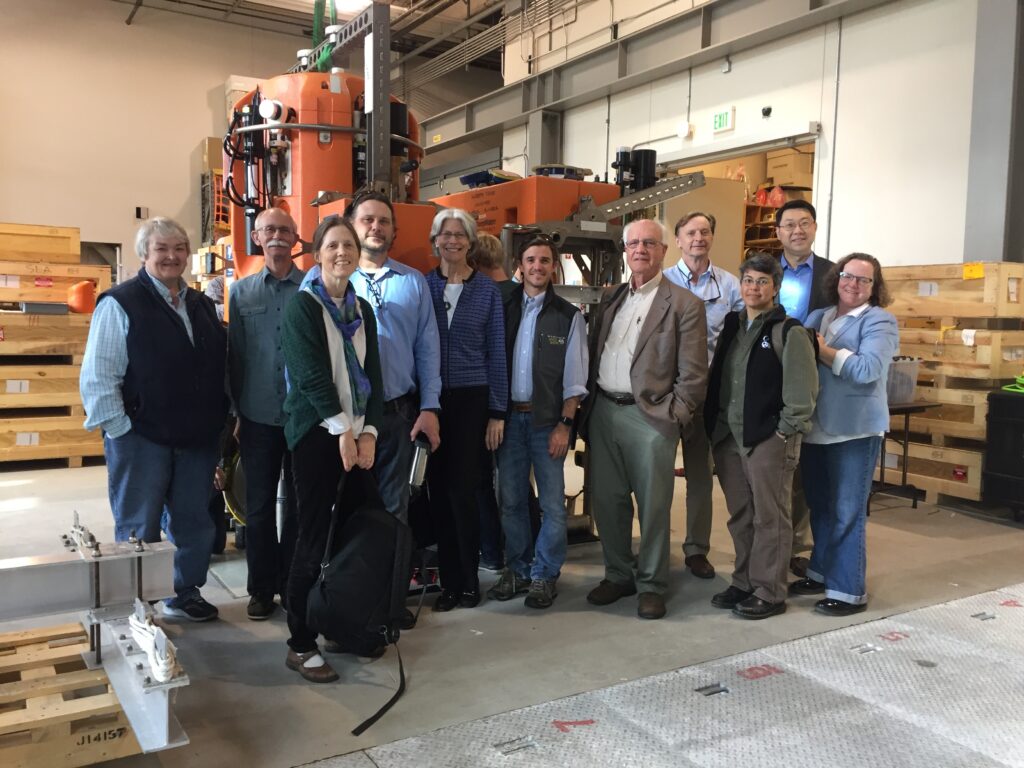 Larry P. Atkinson
1941 – 2020
Dr. Larry Atkinson, the inaugural Chair of the OOI Facility Board (OOIFB), died on December 22, 2020. Larry served as the OOIFB Chair from May 2017 until November 2019 and Past-Chair since that time. He worked to expand scientific and public awareness of OOI. Larry promoted inclusiveness and was an advocate for the science community who used OOI data. As OOIFB Chair, Larry had a particular focus on students and early career scientists, and he worked to highlight their use of OOI.

Larry generously served the oceanographic community for more than five decades by sharing his time, knowledge, and leadership to support ocean initiatives.

We will greatly miss Larry's wisdom, leadership, and kindness. To read more, click HERE.