The Ocean Observatories Initiative Facility Board hosted a town hall at the February 2018 Ocean Science meeting in Portland, Oregon.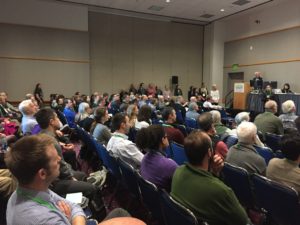 View Lightning Slides presented at the meeting.
Over 80 people attended the workshop.
The Town Hall was Tuesday, February 13, 2018: 12:45 PM – 1:45 PM Oregon Convention Center, Room F151.
Agenda
Lunch will be provided
1245 Welcome – Larry Atkinson, Chair, OOIFB
1250 Updates from the National Science Foundation Ocean Sciences – Bob Houtman (Head of NSF Integrative Programs Section), Lisa Clough (Head of NSF Ocean Section)
1255 OOI Announcements – Mike Crowley, Leslie Smith
1300 Demo of Data Access – John Kerfoot
1305 Lightning Presentations (One Slide – One Minute)
Bill Chadwick, OSU, Axial
Aaron Marburg, UW/APL, Axial
William Wilcock, UW, Axial
Wu-Jung Lee, UW/APL, Axial
Fernanda Henderikx Freitas, OSU, Endurance
Clare Reimers, OSU, Endurance
Mei Sato, OSU, Endurance
Veronica Tamsitt, UCSD/SIO, Southern Ocean
Femke de Jong, NIOZ, Irminger
Hilary Palevsky, WHOI, Irminger
Robert Todd, WHOI, Pioneer
Gordon Zhang, WHOI, Pioneer
Glen Gawarkiewicz, WHOI, Pioneer
Ke Chen, WHOI, Pioneer
Robert Vaillancourt, Millersville, Education, and Pioneer
Cheryl Greengrove, UW/Tacoma, Educational
1330 Questions, Answers, and Discussion
1345 End of Town Hall